When can my baby sleep with a blanket?
Views:66 Author:Site Editor Publish Time: 2019-02-12 Origin:Site
Wait until your baby is at least 12 months old. According to the American Academy of Pediatrics (AAP), soft bedding in a crib – like blankets and pillows – increases of the risk of suffocation or sudden infant death syndrome (SIDS). Safe alternatives to blankets are sleepers, sleep sacks, and wearable blankets.
After 12 months, the statistical likelihood of dying from SIDS plummets. The risk of suffocation also goes down because most 12-month-olds are able to roll over and have the dexterity to move blankets away from their face.
It's best not to use crib bumpers, sleep positioners (like wedges), special mattresses, or anything else that claims to reduce the risk of SIDS. According to the AAP, not only do these devices fail to protect your baby, some infants have suffocated while using them.
Once your baby is 12 months, it's okay for your child to bring a blanket or special toy to bed for comfort, but it's still safest to keep his crib relatively empty – so don't give your child a pillow until he has transitioned from the crib to a bed.
There's no set time when you have to replace your child's crib with a regular or toddler bed, although most children make the switch sometime between ages 1 1/2 and 3 1/2.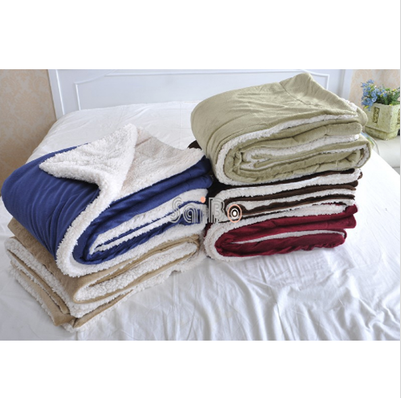 It's often best to wait until your child is closer to 3, since many little ones just aren't ready to make the transition. Of course, you'll need to move your toddler to a bed when he's simply too big or too active to sleep in a crib anymore.

Many parents make the switch because they're worried that their active toddler might climb or jump out of his crib — and this is a real safety concern. But it's best not to react to climbing out of the crib or any other sudden sleep problem with a sense of alarm.

Don't rush right out and buy a new bed the day your toddler first climbs out of the crib. He may not be ready to move to a bed, and it may not be safe for him to be up and about during the night when everyone else is asleep. Buy yourself some time by lowering the crib mattress as far as possible, so the side rails are relatively higher and more difficult to climb over.

Another reason parents make the switch to a bed is the impending arrival of another baby. If this is your situation, make the switch at least six to eight weeks before you're due. You want your toddler well settled in his new bed before he sees the baby taking over "his" crib. Depending on your toddler's age, you could also consider delaying the switch until the new baby is 3 or 4 months old. Your newborn will probably spend those months sleeping in a bassinet anyway, and your toddler will have time to adjust to the new baby, making the transition to a bed easier when it does happen.

Be sure to base the timing of the switch on your child's readiness rather than on the need to free up the crib, however. Many parents find out too late that it would have been easier to borrow or buy another crib rather than move their older child to a bed before he was ready.

Some children adjust readily to this change, while others have a hard time with it. Every child is different. It's not unusual, though, for firstborn children to resist the transition. He may be very attached to his crib and all of his associations with it. The move to sleeping in a bed is just one of many changes at this stage in a toddler's life — it may coincide with toilet-training, starting preschool and other pressures to "grow up."

If a new baby's on the way, your child may feel possessive of his baby things, including his crib. Later-born children often have an easier time making the switch to a bed because they want to be just like their older brother or sister. They're eager to move from the crib, which is "for babies," into a "big-kid bed." However some toddlers, whether first- or later-born, are just plain ready and relish this change in their status.

To ease the transition, put your toddler's new bed in the same place his crib used to be. If you're using a twin bed, you may not want to make an immediate switch to grown-up sheets and blankets that are tucked in. Your child may find it soothing to continue to sleep with his old crib blanket, even if it's too small. Don't forget to put up a guardrail to prevent your newly liberated toddler from falling out of bed.

Get your toddler excited about having a "big-kid bed" by taking him with you to pick it out, if you're buying it new, or by emphasizing its previous owner if that person is someone your child knows. For example: "This was your cousin't bed, and now it's yours! You're almost as big as him now!" Let your toddler shop with you for new sheets featuring his favorite characters, and encourage him to show his "big-kid bed" to visiting friends and family.

Finally, remember that the switch from a crib to a bed is a milestone in your life, too. It's one more sign that your baby is growing up. Reflect on when you first set up the crib for your little one, and then go have a private celebration of your own.