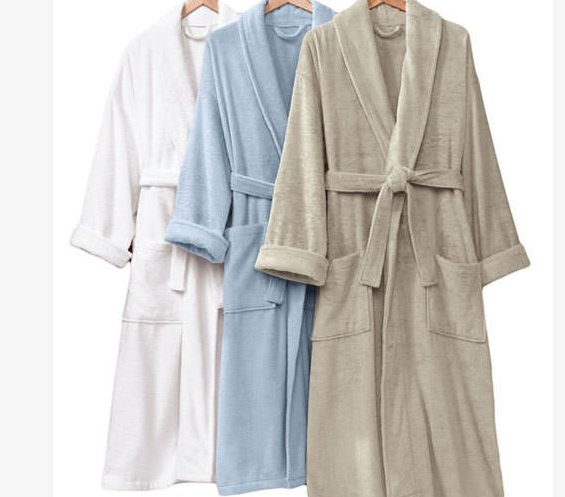 Bathrobes are not only used in hotels but in your home. Especially in the chilly season, nothing can be comfortable than wearing your bathrobe after taking a bath. There are various materials of bathrobe farbric and different styles. Before you can enjoy the benefits of adding a bathrobe to your prized possessions, you have to pick the right one first. The following are the points that you should consider when choosing a bathrobe.
Weight
When choosing a bathrobe, the first thing you should consider is the weight. The kind of weight you prefer will affect a lot of the other factors you need to consider when making the purchase. That is why weight comes first.
Weight determines the comfort and coolness of the robe. Robes with a heavier fleece are ideal when you want to keep warm. Lightweight options are best suited for warmer areas where you need to stay covered and cool.
Design, Style/Cut
After choosing the appropriate weight, you now have the difficult decision of choosing the design of your bathrobe. In most cases, this can be influenced by weather. However, in most cases, the choice is purely based on personal preference. The most popular designs include;
Kimono – the ancient Japanese Kimono inspires the design of the Kimono bathrobe. It has a relaxed collar and longer sleeves compared to other designs. The design is available in different fabrics like Cotton and Silk.
Shawl collar – like the kimono, the Shawl bathrobe has a relaxed collar too. The most distinct feature is the higher cover on your chest and the flabby hands. If warmth matters more to you, the Shawl collar style bathrobe is perfect.
Hooded – for users who value warmth, the hooded bathrobe offers plenty of it. The hood adds some much-needed cover to the neck and head. You can also pull over the hood over wet hair after a swim or shower to get it dry as you move around.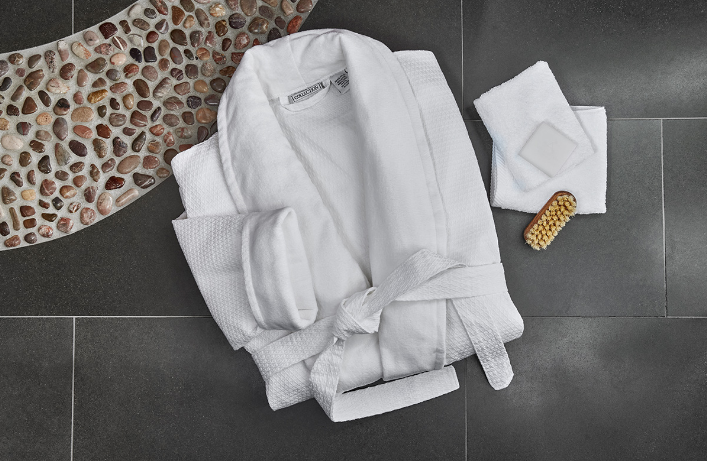 Type of Fabric
The list of fabrics used in making bathrobes is extensive. To choose the best one, you need to understand the different fabrics and how they affect the performance of the bathrobe. To make the decision much easier, there are a few factors you need to consider before settling on your preferred fabric.
Weight – how heavy do you want your robe to be? If you prefer heavy and warmer options, cotton terry and cotton velour robes are the best options. If you want to go for a lightweight feel, silk, chenille and cashmere robes are best. Cashmere and chenille are not only lightweight but are also moderately warm.
Absorbency – robes that have high absorbency also tend to be very heavy. Bathrobes made from terry and microfiber have the highest absorbency of up to three times the weight of the towel. However, if weight is a problem, you can choose the less absorbent cashmere or chenille.
Once you understand how fabrics affect the functioning of the robe, you can now pick your preferred fabric. There are plenty of fabrics that you can choose from for your new bathrobe. Each type of fabric has benefits and downsides.
Cotton – cotton makes for a great option when warmth and absorbency are priorities. However, most bathrobes made from cotton have the potential to shrink. There are various types of cotton bathrobes which include Egyptian, Turkish bathrobe, and the cotton waffle weave bathrobe.
Satin and silk – these lightweight robes are known for their smooth feel. They are perfect for summer and loungewear even though they don't have good water absorbency.
Cashmere – if the quality is a priority, cashmere bathrobes are the best. They offer a premium experience and have superior insulation without adding much weight. But, you should know that cashmere bathrobes can only be dry washed.
Chenille – chenille robes are made with 100% polyester which offers excellent insulation. The robes are quickly becoming popular but, they tend to lose shape after washing. It is also essential to check the quality of chenille being used because the types and results vary drastically.
Polyester – unlike cotton, polyester is man-made. It is usually blended with cotton to avoid shrinkage after washing. Polyester blends feel silky and plush and are widely preferred by spas and hotels because of their luxurious feel when in contact with the skin.
Size
There is a common misconception that bathrobes are one-size fits all. Whether you're buying a Turkish bathrobe for yourself or a friend, you shouldn't spend money on something that doesn't fit well. The one-size fits all variety was introduced for the hospitality industry to accommodate the vast volumes purchased not for personal use.
When considering size, emphasis should be on the length of the robe and the arms. You can choose between having a mid-calf long bathrobe or an ankle length option. The choice to pick one over the other is based on individual taste.
You should also make sure the arms fit properly. If they are too long, they become a bother, and you have to keep rolling them back. If they are too short, they don't provide enough coverage to the arms.
Color
The color factor depends on individual taste. There is a wide range of colors to choose from ranging from bright and bold to calming and classic white hue. There are also a variety of stripped versions that are relatively new to the market and very interesting.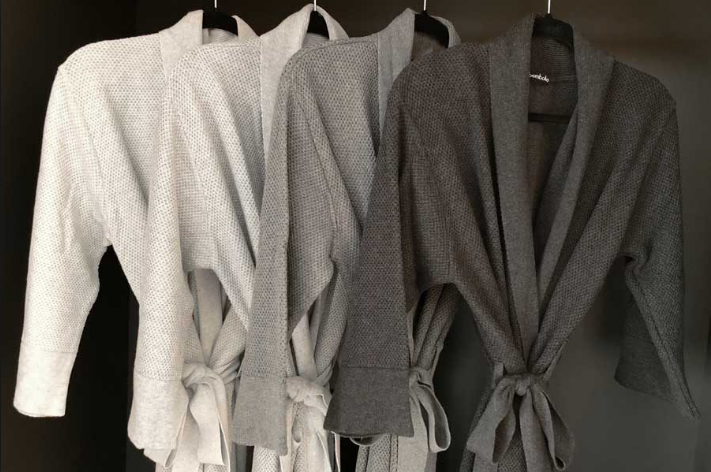 Additional features
Simply taking time to get the best Turkish bathrobe for you by considering the different factors covered herein is not enough. Your ideal bathrobe should be able to cater to your needs and preferences. To satisfy this, here are a few added features that you can consider when buying a bathrobe to make sure you cover all grounds. These include;
l Large pockets
l Cuffs
l Inside ties
Even though these additional features might add to the total cost of the bathrobe, they can enhance the functionality and look of the bathrobe and improve your experience.
You need to know more about how to choose a right bathrobe, especially if you are going to purchase massively. From the farbric to the style and the price, everything should be condiser carefully.