Expectant mothers may find themselves overwhelmed by the multitude of available baby products. Thousands of different accessories from thousands of different brands make it seem impossible for mothers to choose what will be right for their own child. Women seek advice from baby books, other mothers, family members, and even online communities, and the result of this research is often a flurry of varying opinions and experience. With the overwhelming nature of all that research, expectant mothers might feel like giving up. They should not despair, however. Starting with an item as basic as a blanket can help new mothers navigate this new world with confidence, because very few items seem as useful or as versatile as a baby blanket.
Baby Blanket Basics
Grandmothers, aunts, and friendly neighbors are known for knitting and crocheting blankets for imminent arrivals. Yarns are carefully chosen. If the sex of the baby is known, often the gift giver will choose accordingly: blues for boys, and pinks and purples for girls. For those mothers waiting to be surprised by the baby's sex, the blanket maker may stick with the more gender-neutral yellows or greens. These kinds of handmade items are a heartfelt way for loved ones to help welcome a new life, while also providing a functional item for the child's care.
If a gift giver isn't the type of person to craft a blanket on their own, handmade blankets are also available for purchase from those with knitting and crocheting talents. These blankets are available in a variety of sizes and patterns, as well as in a wide selection of weight and thickness. While they may be considered aesthetically-pleasing presents, handmade baby blankets can be used as an essential part of a baby layette called a receiving blanket.
Receiving Blankets
Receiving blankets are a staple in a baby's world. They are an all-purpose blanket made of lightweight material such as thermal waffle, polyester, fleece, muslins, flannel, and more eco-friendly options such as organic cotton or bamboo. They are either square or rectangular in shape and are not overly thick so that they can be easily wrapped around the baby to help maintain their body heat. Newborns need to preserve their caloric intake for weight gain and can waste calories maintaining their own fragile temperatures.
The term "receiving blanket" refers to the original use, which was to "receive" the baby at their birth. While they are still used in hospitals, receiving blankets have many uses beyond those first moments. They can substitute for a changing mat in a pinch, function as a burp cloth, cover a nursing mother, shade a sleeping baby in a carseat, provide a clean surface for baby to lay upon, as well as a variety of other uses. However, one of the most popular uses of the basic receiving blanket is to swaddle a baby for sleep.
The Benefits of Swaddling
When babies are first born, they have become accustomed to sleeping in a very cramped environment. Some researchers suggest that mimicking these conditions will help babies sleep better and adjust to life outside the womb. Many hospitals instruct new parents on how to swaddle their newborns as part of the discharge process. Although it may sound like a form of torture to adults, babies enjoy being swaddled because it emulates the womb, eliminates the startling reflex, increases the feeling of security, and helps the baby stay asleep at the various points in the sleep cycle. Swaddling also reduces colic by allowing babies to self-soothe. Additionally, it allows mothers to nurse their newborns more easily without having to contend with flailing infant limbs, since the new baby does not yet have motor control. Because swaddled babies sleep on their back, it also decreases the risk of Sudden Infant Death Syndrome (SIDS).
How to Swaddle
Using the basic receiving blanket, a baby can be swaddled successfully. It is the swaddler's preference whether a knit blanket or woven receiving blanket is used. Some people appreciate the stretchiness of a knit, whereas others find it prohibitive to an effective swaddle. Either way, the swaddler is going to wrap the baby using a technique sometimes referred to as a "burrito" because the folding and wrapping of the blanket resembles the folding and wrapping of a tortilla when making a burrito.
First, the blanket is laid down on a flat surface with one corner pointing up, resembling a diamond. That corner should then be folded down about six inches. The baby is then placed on the blanket with their neck lined up to the fold. Next, the baby's arms should be tucked into the folded area, and the right side of the blanket should be pulled across the baby's body and tucked under the baby's left side securely. The bottom corner of the blanket is then brought up to the right shoulder, covering the feet and legs. Finally, the remaining side is crossed over the baby and tucked securely on the right side.
There are other techniques available for swaddling, so parents may wish to experiment with different methods to find which works best for their own baby. This may include leaving one or both of the arms up toward the baby's face. Trying out several different techniques allows parents to settle on which method their child prefers. Also, parents might discover their own child can break free from a swaddle, and a loose swaddle is not considered safe. There are several pre-made swaddling devices available for purchase that do some of the swaddling work for parents so they don't have to worry about their little escape artists being unsafe. These more structured blankets take the edge off of sleepless frustration as well. Various pockets and fasteners guarantee safer and happier sleeping for babies as well as for their parents.
Types of Pre-Made Swaddles
Swaddle Pods and Woombies are the simplest type of pre-made swaddles. They are shaped like a peanut and contain the baby within stretchy knit fabric, much like a cocoon. Babies are tightly secure, yet can still move their arms in a way to comfort themselves without risking the startling reflex. They are available in a variety of colors and use a zipper and snap to close.
Miracle Blankets utilize pouches and flaps to guide the swaddling parent. There are no fasteners. Instead, a method of tucking and wrapping used to mimic the pouches and wrapping of the basic receiving blanket, but with slightly more construction. They are available in a variety of colors and are only made from 100% knit cotton. Another option is called a Swaddle Me, which also has pockets and flaps as well as velcro fasteners which help to keep the swaddle tight. The Swaddle Me is available in both conventional and organic cotton, microfleece, and luxe velboa.
Sleep sacks are a type of wearable blanket, and some varieties are available with a detachable swaddling piece. These are available in fleece, cotton, velboa, and chenille, and they come in a variety of sizes to fit tiny newborns up until toddlerhood. When babies outgrow the need for swaddling, the additional piece can be removed and the remaining blanket can be a safe way to keep babies warm without risking loose fabric in the baby's bed.
How to Buy Swaddling and Receiving Blankets
Several brick and mortar stores carry a wide variety of swaddling and receiving blankets. All types of blankets made from a wide variety of materials and in a varying selection of sizes can be found and purchased both in stores and online. Another option available is purchasing handmade blankets sold at craft fairs. Several independent merchants as well as resellers list and sell swaddling and receiving blankets on auction sites like eBay.
How to Buy Swaddling and Receiving Blankets on eBay
Once you have decided on the specifics of either a gift or an item for your own baby's layette, use the search engine on eBay to locate items to match your needs. Searching is open to all, but if you wish to purchase through eBay, you will need to register for a free account. You will be asked to create a unique username and password, as well as needing to provide contact information. Next, spend some time learning about the bidding process by reading eBay's help page. You can also search within eBay Stores for your item by selecting the Baby category from the menu on the left side of the page. Many merchants set up specific stores to aid consumers in finding their specific items. Some stores are also created by merchants for the purpose of selling their handmade items. Always check seller feedback as well as payment and return policies for each auction item you are considering. Many sellers offer free shipping, combined shipping if you purchase multiple items from the same buyer, or even flat rate shipping. If you wish to pick up items, you can also search for local sellers and utilize the local pick up option.
Conclusion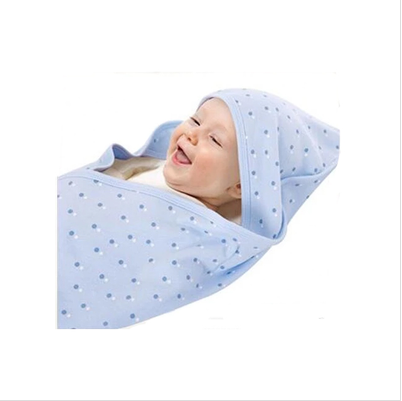 Receiving blankets are the cornerstone of any layette. They can be used as a covering for nursing, as a soft place to lay a baby down, or as a versatile source of warmth and security through swaddling. This makes them an invaluable item to any new mother. Whether the purchaser chooses a basic receiving blanket, a more specified swaddle with fasteners and pockets, or a combination of both, eBay is an excellent place to find one. A few moments spent researching the bidding process, in addition to researching the types of blankets available, can lead to the successful purchase of swaddling and receiving blankets.