5 types of winter scarves
Views:61 Author:finder Publish Time: 2017-07-12 Origin:finder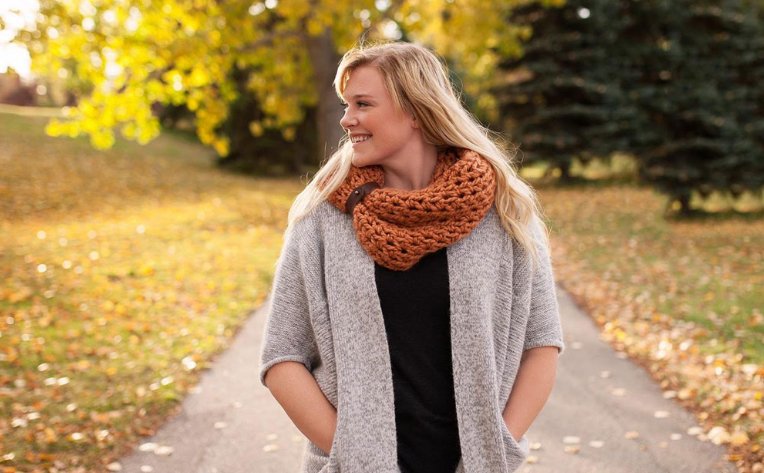 Scarf is necessary for bringing warm to you in chilly season. And there many types of scarf, different scarfs used in different weather, let me introduce you some of the scarf used in winter.
Regular scarf
It should be said that there's nothing wrong with wearing a scarf the regular way, with the ends draped loosely around your neck. There are even multiple ways to knot a simple long scarf, so you've got variety even within the one piece of fabric. Classics are classics for a reason!
It's warm, it's snug and it'll keep your neck protected from the cold. It's the image you conjure when you first think of a scarf, so why not give it a shot?
Infinity scarf
Infinity scarves are a really simple, easy way of keeping your neck warm without having dangly ends getting in the way or unwrapping as you walk down the street. And you know just how important that is when you're stuck walking in the winter chill.
Not only are you efficiently wrapped, but often infinity scarves can be pulled up over your mouth and nose in times of extreme cold. You know, like when your breath is visible in the air!
Snood
It's not just an amusing word. Snoods are wrap-around scarves that have the capacity to cover and shield your head from the cold like a hood, while still functioning as an infinity scarf around your neck. Often made from a thicker wool, these will stop heat escaping through your head.
While snoods and infinity scarves may look similar on the rack, they definitely serve different purposes and you'll achieve different results with each.
Scarves with pockets
All women know that the addition of pockets to almost anything is cause for celebration and for loudly announcing it to all who will listen. In winter, when your hands are shaking and shivering so badly you can barely hold a pen, these pockets will be a lifesaver.
Pop in a pocket warmer from Priceline or Chemist Warehouse and you're going to be set all winter long.
Shawl
It may not technically count as a scarf, but a big shawl can function in just the same way. The best part? You can cover your shoulders and even wrap the shawl around your arms, maximising the surface area that is covered and giving you even more warmth.
If you want to wear it as a scarf, all you have to do is roll it up slightly and your neck will be free from the breezy winter air.
Wearing scarf well is not only a way to keep warm, but a decoration for your dressing style.